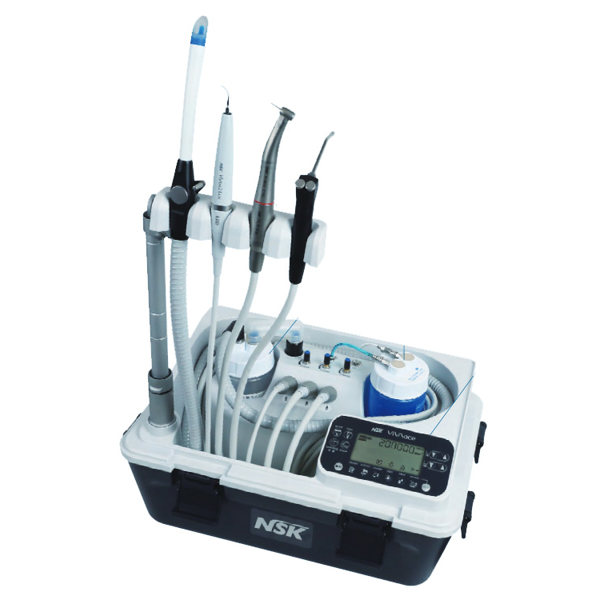 NSK veterinary dental system
No power loss with the Nano brushless motor
Direct control for irrigated high speed, low speed or endodontic use
Scaler for supra and sub-gingival scaling
3 Way air and water syringe
Inbuilt suction system
No compressor or air supply required.
The state of the art NSK system provides the benefit of low maintenance brushless electric motors in a small lightweight case that packs away. The system provides all the features of a dental cart in a completely mobile carry case .
The constant power of the NSK motor stops the loss of torque when the bur comes into contact with the tooth. The precise speed control allows perfect sectioning with no loss of power.
Unlike high maintenance air driven systems the same motor provides low and high speeds with constant torque and exact control.
The unit is equipped with the powerful NSK scaler that has a large range of tips for supra and sub-gingival scaling as well as endodontic procedures.
Suction is included to remove aspirated bacteria and harmful enamel dust protecting the animals under your care and your staff.
The days of the dental cart are over save space and turn any location into a dental room with the compact and powerful NSK dental unit.
Designed for use as your main system with the benefit of mobility for branch clinics or remote referral patients.